(Hearing) Lessons Learned from "Project Runway"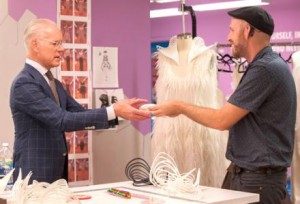 Justin LeBlanc might have finished third in the recent finale of Lifetime's "Project Runway," but the designer — who's been deaf since birth and has a cochlear implant — took the top spot for showing that hearing problems don't have to hold you back, even in the drama-loving world of reality TV.
Throughout the season, while completing design challenges at the direction of Heidi Klum and Tim Gunn, LeBlanc relied on an American Sign Language interpreter provided by the show. LeBlanc still has limited hearing abilities, despite the cochlear implant he got at age 18, so he uses ASL to fill in the gaps.
Always the focused designer, LeBlanc told reporters after the series that his hearing issues turned out to be an advantage during stressful studio sessions. When his fellow contestants would get into screaming arguments, he'd turn down the volume on his implant and keep working away.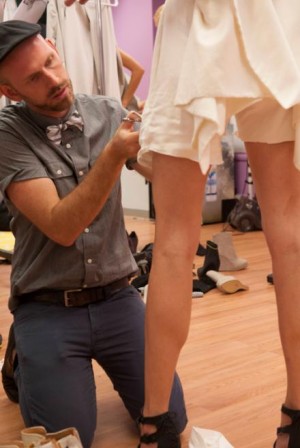 By the season finale, LeBlanc had become a fan favorite and used his newfound media attention to spread awareness about deafness. His perspective? Hearing issues shouldn't be thought of as "impairments." He sees his deafness simply as a way of life — all he's ever known.
That's not to say his journey from deafness to hearing didn't influence his work. The collection he showed at New York Fashion Week for the "Project Runway" finale included a dress decked out with thousands of plastic test tubes, representative of the impact that science has had on his life.
So what's the lesson in all this? First, that deafness doesn't have to be overly dramatized, even in the public arena. And second, that treating deaf individuals with the same dignity as everyone else can go a long way.
If you're unfamiliar with conversing with deaf individuals, consider these tips:
If someone's using a sign-language interpreter, still look at and speak directly to the individual you're talking to — not the interpreter.
If someone asks for a statement to be repeated, repeat it, rather than saying "never mind" and moving on.
If you know some sign language, don't be afraid to use it.
Understand that hearing aids don't work as seamlessly in noisy places. Patience is a plus.
Don't shout.
With awareness comes sensitivity, so here's hoping that more talented individuals can keep the issue in the spotlight in a positive way. Until then, we're here when you need advice about hearing issues of any kind. Just make an appointment if we can help.
---