How to Keep Your Singing Voice Healthy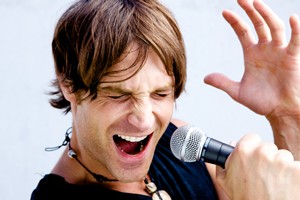 Whether you sing for a career or just like to belt out a few notes every now and then, it's important to care for your voice — and keep it healthy. Much the same way as an athlete would practice and exercise before a game, singers should follow tried-and-true methods to support some of their most important assets: the vocal cords. Learn how to keep your singing voice healthy.
How can you maintain a healthy singing voice?
Start with these tips.
Stay hydrated. Well lubricated vocal cords perform better. Drink plenty of water, avoid caffeine and alcohol, and add water-rich foods to your diet. Try melons, grapes, bell peppers and low-sodium soups in a pinch.
Relax your throat and neck muscles, even on high and low notes. Some singers have the tendency to lift their heads up for high notes and down for low notes. Besides vocal-muscle strain, that can decrease overall vocal range, as time passes.
Avoid repeatedly clearing your throat. Try a sip of water instead — because each time you clear your throat, it's as if the vocal cords are being slammed together. Needing to clear your throat frequently also can be a sign of allergies, sinus problems or acid reflux.
If you like to sing, watch how you talk. Be conscious of breath flow and other singing techniques in normal conversation. Vocal coaches warn that even dedicated singers can slip up when they speak.
Remember your exercises. To warm up your voice at the start of the day, try humming or tongue trills. If you'll be moving on to more complicated vocal exercises, then perform the easier parts of your vocal routine first, and always finish with a cool down.
With these tips in mind, a healthy singing voice can be well within reach. If you need more advice on maintaining vocal wellness of if you believe that a health problem could be impairing your singing or speech, then feel free to get in touch anytime.
---